First of all, a very Happy Father's Day to all my readers.
I will be spending at least part of the day with my dad. No surprise there. I'm grateful I have such a good relationship with both of my parents. My mom is one of my best friends, but I'm also definitely a daddy's girl. And I have no apologies about that. I mean, he drove me six hours to Wisconsin back in 1998 so he could take me to my first *N Sync concert, and he likes to do yard work whenever he comes to see me. (And I'm happy to let him do that because it's my LEAST favorite thing to do.) He may not be perfect, but he's pretty awesome. So awesome that a few of my friends like to call him their "other dad." I suppose I can share.
\\\////
I loved last week's inaugural Sunday Social. I definitely plan on being a regular contributor.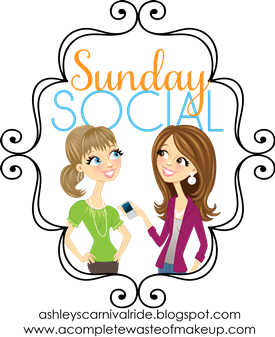 Time to answer this week's questions ...
Favorite movie of all time?
I can only have one? Really? "Good Will Hunting" is a staple. It's a great movie, and it has sentimental value too. My best friend and I saw it in the theaters seven times when we were seniors in high school. Whenever I watch it, I'm reminded of her and those carefree days. Also, it's super quotable.
"Do you like apples? Well, I got her number. How do you like them apples?"
"Men are shameless. If you're not thinking with your penis, then you're acting directly on its behalf."
"You're legally allowed to drink now, so we figured the best thing for you was a car."
"You're not perfect, sport, and let me save you the suspense: this girl you've met, she's not perfect either. But the question is whether or not you're perfect for each other."
\\\///
Favorite movie quote?
Oh, goodness. Again, how can I pick just one?
I tend to quote "Elf" a lot --- "Son of a nutcracker!" is my favorite.
And what baseball fan DOESN'T quote "Major League" ("Juuust a bit outside.") or "The Sandlot" ("You're killin' me, Smalls!")
\\\///
Best movie to watch for a girls night in?
"Mean Girls" or "Bridesmaids." Or maybe even "13 Going on 30." I mean, who doesn't want to do the "Thriller" dance?
\\\///
Best breakup movie?
If you want to sob, probably "P.S. I Love You," but if you want to just get over it and move on, I'd go with "Legally Blonde."
\\\///
Favorite celeb eye candy?
If you've been following my blog for any length of time, you know these are my favorites:
\\\///
Which movie star's closet would you want to raid?
Emma Stone and/or Zooey Deschanel. Please and thank you.
\\\///
I hope everyone's having a great weekend!!