I've had a really peaceful and productive weekend. With the exception of a Wal-Mart run on Saturday evening, I have not left the house since I got home from work on Friday. That might not sound appealing to a lot of people, but as an introvert, I thrive on weekends like this. It's the perfect way for me to recharge and get ready for a new week. Also, it's not like I was doing nothing while I was at home. I finished my DIY dresser project by Saturday evening. I'm really happy with the way it turned out and I can't wait to share it with you via guest post on a friend's blog. Stay tuned. I promise to link it here.
Today, I will be all about reading and laundry. I hope to get a run in too.
Before I can get to all that, let's check out this week's Sunday Social.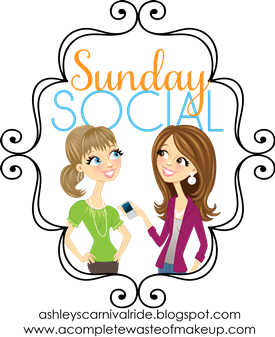 Best trip you've ever been on
Probably my March trip to Arizona.
It had everything I love -- wine, good friends, baseball.
I don't need much more.
\\\\////
Best idea for a girls weekend trip
Rent a hotel room in a fun city -- for me that would probably be Minneapolis.
Shop and sightsee during the day.
Dinners and drinks at night.
Lots of time to talk.
Love it.
\\\\////
Best idea for a couples trip
I would love to take a roadtrip to the Leinenkugel's Brewery.
And maybe catch a baseball game in Milwaukee.
\\\\////
Best vacation on the cheap
Become a tourist in your own town or area.
Sometimes you discover or rediscover some great things.
\\\\////
Place you most want to visit
Brazil
One of my best friends was born there, and it would be so fun to visit while her parents are still living there.
I only have a few more years to get this done though, so we'll see if I can make it happen.
\\\\////
Vacation/travel necessities
Camera -- Obvious reasons.
Sunscreen -- I have to protect this ginger skin.
At least one really hot outfit -- I've never not needed one on a trip.
Comfortable shoes -- I regretted my shoe choices in Vegas last fall.
Room for souvenirs -- I always bring something back.
\\\\////
And now, after writing about all that, I'm getting the travel bug.
Too bad I'm poor. So I'll have to stay put for awhile.