I was my own valentine yesterday. I might be biased, but I think I was a pretty good valentine.
Check out my day.
It actually started Thursday night, when I got a StitchFix.
After trying on everything in the box, I settled on this top.
I promise it looks better on. The right shows the pattern.
I don't buy myself new clothes very often, so this was a nice treat.
I can't wait to wear it!
Friday morning began with a cup of freshly ground coffee and Little Debbie heart cakes.
I've been eating really healthy all week (even skipping the coffee!), so this was a splurge.
(OK, the cakes were courtesy of someone at my office.)
For lunch, I went to Olive Garden with two of my favorite work friends.
The girl talk and delicious meal were just what I needed today.
After work, I met up with Ashley, who is getting married in May.
We went to Ames to pick up her wedding shoes and check out some jewelry for her wedding.
Then we had dinner at Hickory Park (so yummy!) and had cookies from Cookies, Etc. for dessert.
Before she headed home, we did some wedding work.
((I forgot to take pictures at lunch and dinner ... sorry!))
I ended my night with a sweet and sappy movie, "The Spectacular Now" and a craft beer.
No, it wasn't a fancy day, but it was filled with lots of my favorite people and things.
And that's all that really matters.
I love me.
++++++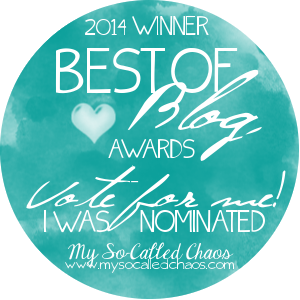 Speaking of loving ...
My So-Called Chaos
is hosing the
Best of Blogs Awards
, and my little blog has been nominated in three categories -
Sweet Single
,
Favorite Funny Blog
, and
Best Bloggy Buddy
.
You don't have to vote for me, but I'd be very flattered if you did. Heck, I'm already flattered that someone thinks this blog is worth nominating.