Better slow than not at all and better late than never.
Those are my mantras this week.
First of all, I had a very bad run on Sunday. It was just terrible. I berated myself over it all evening. I should have gotten up earlier and ran before it got warm. I should have eaten better, drank more water, etc. And during my run on Tuesday, I had so many moments when I just kept telling myself (and others), "I'm so slow."
Why am I doing that to myself?
Running is such a mental thing. If I'm beating myself down, I will never get through 13.1 in October. I need to start saying nicer things to myself. I need to be my own cheerleader. So what if I'm slow? I'm still running. It's time to take back and get some perspective.
Five years ago, I couldn't run for five minutes, let alone five miles.
Three years ago, I had trouble finishing a 5K, and now I'm looking at a half-marathon.
One year ago, I was sporadic with my running, and now it's something I look forward to.
Secondly, I'm a few days delayed jumping into this Create Your Own Adventure link-up for September goals.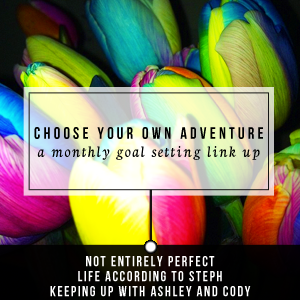 This month has a fitness theme, so I hesitated at first. I'm super focused on my half-marathon training right now. But the more I thought about it, the more I realized I might be too focused on my running. Outside of some walking and a few yoga sessions, I have not done any cross-training. None. I think my body would appreciate a few other activities ... and also some better water intake.
So here's what I'll be working on this month:
1. Drink at least 70 ounces of water each day.
2. Go for one bike ride or attend one Zumba class each week.
3. Complete a yoga routine (at least 20 minutes) two times a week.
I think those are very doable and I hope to report success to you when we close this out on Oct. 2.
+++++
Last week's workouts
Friday: 4-mile treadmill run
Saturday: Off.
Sunday: 5 slow miles on the trail. It was supposed to be 7, but I felt terrible and couldn't finish.
Monday: Off.
Tuesday: 5-mile trail run with running club
Wednesday: 4 miles on the treadmill
Thursday:
Off.
+++++