I read a lot of great blogs every day. I'm following the lead of
Casey at Stress Case
and offering up some love to my favorite reads of the week.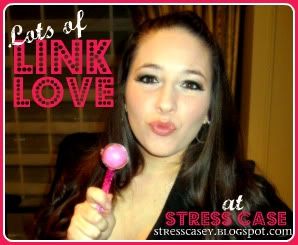 Enjoy!
The Frenemy talks about hope
.
"The people that inspire you, push you, change you, awe you, and fill you with the kind of good stuff that makes you think 'Hey, I'm glad I know them. Now I want them to think it's glad to know me, too.'"
Love love love this blog. If you're not following it, you need to be.
Jen at People I Want to Punch in the Throat writes about annoying facebook updates
. I'm guilty of
some
many of these, but I still found this post hilariously accurate. It might make me monitor my own updates more often.
Kristin shared her perspective on health and body image.
I posted something similar on that very day, and seeing someone else with the same thoughts helped me feel a little more validated.
Kristin at Iowa Girl Eats (my favorite food blog) posted a delicious recipe for brown butter banana bread cookies.
I "star" at least one of her recipes every week, and I've tried a handful of them so far. So yummy. Can't wait to try these cookies.
Sarah shared the adorable pictures from her rain shower-themed baby shower
. I've only been following her blog a short while, but even I'm excited for the arrival of baby Jake.
Daily Pep Talk From a Best Friend
is always good. But I especially liked this one about
being great
.
Rachel showcased her favorite ideas for a library in her dream house
. I could get on board with one of those. Especially the ones with a window seat. Gorgeous!
And how about a little eye and ear candy for this awesome Friday ...
By the way, this talented boy is doing an awesome charity drive right now. All you have to do is
"like" his facebook page
, and $1 will be donated to SOS Children's Villages, an international charity that provides orphaned and abandoned children with a mother, a house, food, education, and health care. And if you provide your e-mail address, he'll send you some free tunes. That, I believe, is what they call a win-win!