My Saturday was so lazy ... and so awesome.
After going to Zumba class (and there were only four of us), I pretty much spent the rest of the day on the couch. Or at least I tried to. I've been on the go so much the past few weeks, I wanted a day of nothing, but I'm not sure I'm capable of doing nothing anymore. I succeeded for most of the day --- playing Sims 3 while I caught up on DVRed shows.
But then I got an itch to clean and rearrange the guest room. So ... I did that.
And then I wanted to do a craft I saw on a blog a few weeks ago. So ... I did that. (I'll share it sometime this week.)
I stayed off social media almost all day, with only a quick pop onto facebook to post an old photo I found.
It was really, really nice. And I need to have more days like that.
\\\\////
Anyway ... it's time for another Sunday Social!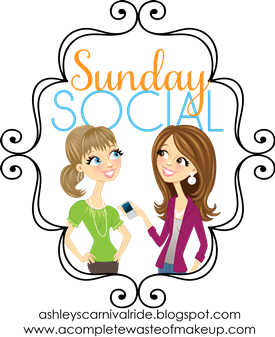 This one is all about music, so it took me a long time to answer these questions. I just have a hard time picking favorites when it comes to music. But I did my best.
>> What is your all-time favorite song?
I could go so many directions with this, but I think I'll choose this song ..
>> What is your favorite singer/band?
Almost certainly John Mayer.
His newest album isn't my favorite, and he tends to be a douchebag, but ... I still love him.
When I say his music changed my life, I'm not exaggerating.
I've seen him live 12 times in six different states, and I truly think he's an amazing musician. But there's more sentimentality behind my John Mayer fandom.
I discovered his music the summer before I moved to Texas. And once I got to my new home, I was so lonely and having a hard time making friends. Joining the John Mayer Fan Club changed all that. All of a sudden, I wasn't lonely anymore. I met several at my first Mayer concert, which was in Austin in 2003, and everything snowballed from there. In the summer of 2004, I went on the Texas Triangle (shows in Dallas, Houston and San Antonio) one weekend and then made a spontaneous decision to road-trip to Birmingham, Ala. FOR ONE SHOW. With "strangers" from the Internet. But by now, they weren't strangers to me. They were friends. And they are still among my closest friends almost ten years later even though John is on touring hiatus because of problems with his vocal chords and I live back in Iowa.
>> What is your theme song/song that best describes your life?
Right now, it's this one...
>> What songs put you in a good mood?
Oooh. There are so many. But here are five sure bets...
>> What is your favorite road-trip music?
It depends on who I'm road-tripping with.
If I'm by myself, I'll probably just jam to whatever I've been obsessed with lately.
If I'm with Jamie (my bestie from high school), we'll probably break out all the 90s stuff. Songs from hour high school years, which might mean early Tim McGraw, Coolio or Boyz II Men. Or lots of otherst that aren't coming to mind right now.
If I'm going somewhere with Bruna (another bestie), we'll have a boybandpalooza. I may even let her sneak some BSB in there. Maybe.
If I'm with Nikki (another bestie), it'll likely be a mix of John Mayer, Maroon 5 and Matt Nathanson.
>> What song are you embarrassed to admit you love?
I try not to be embarrassed about liking what I like. Because honestly, who is it hurting? But here are a few songs I like that would cause others to roll their eyes or give me "a look."
\\\\////
I'm in the municipal band, and we have a concert this afternoon. So I only have a few more hours to enjoy being a hermit. And I'm going to savor it.