I know, I know, Valentine's Day is two days gone. But with this transition period in my new job as well as some rookie swap host mistakes on my part, I had to delay this link-up and reveal. Oh well. Better late than never!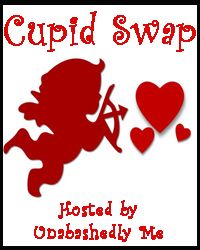 I received goodies from
Christin
, and when I say goodies, I mean it. She spoiled me (and my furbabies).
Here's what the box looked like when I opened it:
And here's what was inside:
As you can see, Cleo is very pleased with the haul. She will have to share the little ladybug toy and catnip with Casey.
I will not have to share the little pink stuffed dog, sexy romance novel, Julep nail polish in a pretty shade of purple, nail files (I always need those), earbuds, loads of candy, lip conditioner and polish and some skin care products (I forgot to tell her I was a Mary Kay consultant ... oops!). On, and there was an adorable valentine inside that her son, Josiah, made for me.
All in all, I think I came out pretty well.
Thanks, Christin!
I bought goodies for
Celia
, and I hope she enjoyed her package.