... that I pretty much got to pick my own work hours.
My new assignment is pretty flexible, and my boss is even moreso.
She told me to pick what time I want to come in and what time I want to leave.
As long as there are eight hours of work in there, it's fine.
For now, I chose a slightly later start and a shorter lunch, but I can change it at any time.
... the Philly cheese steak stuffed peppers Jaci made last night.
It was the first time I've tried stuffed peppers, but it won't be the last.
It was so low carb and tasty.
I'll be looking for more recipes.
... my awesome cat-sitter.
Mandy is seriously the sweetest.
She texts me after she's checked on my babies.
I know I can count on her, and I so appreciate all the help.
There should be more people like her.
... my new MacBook Pro.
My old Dell was a good friend for so many years.
But I didn't realize how slow it had gotten until I booted up the new friend.
Wow. Talk about lightning speed.
And it's still so clean and shiny!
... all the love and support I received on Twitter, Facebook and real life the last few months.
Unemployment was not a fun time for me.
Every time I got down, there was always someone reaching out to me.
It was good to know so many people were thinking of me.
I am so incredibly blessed and loved.
... that I get to spend Friday night with some of my favorite people.
Dinner, drinks and some live music courtesy of
Tim Stop
.
There will also probably be plenty of girl talk and lots of laughs.
It will be so worth the tiredness I'm sure to have on Saturday.
... that I'm not at all sad (or maybe a little) about how much I relate to this ecard.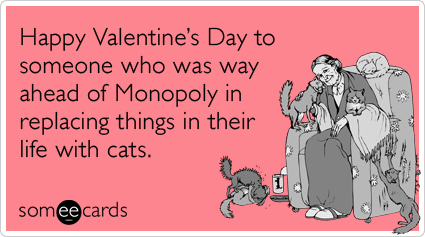 \\\\////
A note for Cupid Swap participants:
Due to some shipping delays and some errors on my part,
I'm pushing back our package reveals a few days.
I'll post the link-up Saturday afternoon and leave it open for a few days.
My apologies for the confusion and mix-ups.