How did I do on my September goals?
Spoiler alert -- I got an F.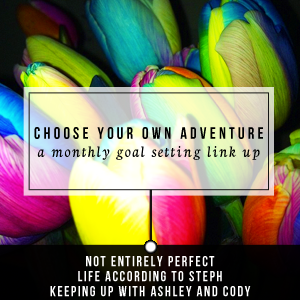 As you might recall, I joined the awesome above-mentioned link-up last month. The theme was fitness, so I thought it would be a perfect fit for my half-marathon training. I was wrong.
These were my goals:
1. Drink at least 70 ounces of water each day. --
SUCCESS
I am happy to say I did accomplish this one. It really wasn't that hard because I am constantly thirsty.
2. Go for one bike ride or attend one Zumba class each week. --
FAIL
I didn't do this once. Not once. Grr.
3. Complete a yoga routine (at least 20 minutes) two times a week. --
FAIL
I got better at stretching, but I did not do this at all. Sigh.
One out of three is better than none, I guess. But I'm not very pleased with myself for not following through on these goals. At all.
It's a new month now (has been for seven days, but ... you know, I've been busy), and I'm ready to tackle some more items. This month's theme is food. I can totally get behind this.
Here are my goals for October:
1. Try a new crockpot meal from my Pinterest boards.
2. Go out to eat just eight times. (I've already gone out three times, so ... I need to cut down more.)
3. Make something with spaghetti squash.
These shouldn't be too hard, right?
What are your goals for the month?