I love this goals link-up. Each month has a different theme and you can set your own tasks that fit in.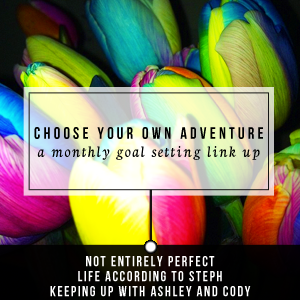 October's goals were all about food. So let's see how I fared ...
1. Try a new crockpot meal from my Pinterest boards --
SUCCESS!
2. Go out to eat just eight times. -- FAIL. I was very social this month.
3. Make something with spaghetti squash. --
SUCCESS!
Yeah, so I really shouldn't call this that big of a victory. I used the same recipe for both of my successes.
November's goals have a theme of organization. Now, I'm bound to be busy writing, but I wanted to join in with two tasks.
1. Do my Mary Kay inventory.
2. Shred junk mail.
Very small things, but I know I will be glad when they're done.
I really want to get my bedroom closet organized too -- especially with the weather changing, but I'm not going to over-commit myself at this point. November is a busy month.