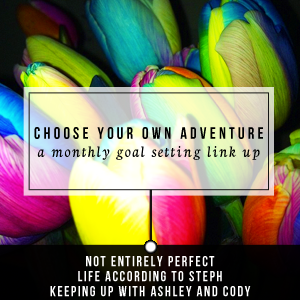 The theme for January was
COMPLETE
. I had plenty of unfinished business I needed to take care of, so let's see how I did.
- The winter wreath I started in December.
YES!
I don't even care that all the tulle isn't even. Ha!
- My workout motivation board.
YES!
You can read more about each of the items on my board here.
- One chapter of one of my writing projects.
YES!
I mailed another chapter of my Nanowrimo project to my readers last weekend. It wasn't anything fantastic, and I'm actually thinking of bailing on that project, but at least I wrote!
I'm pretty proud of the fact that I finished all three of those things. It was a very successful (if busy) month.
+++++
Now, we look ahead to February for which the theme is
CREATE.
Hmm. That can be interpreted so many ways. So, here are my applicable goals:
- Start a new writing project.
Since I'm so disinterested in my Nanowrimo project, I think it's time to get into a different one. Maybe I'll even share it here.
- Do a Pinterest craft.
I've pinned so many things that would be fun and/or easy. Might as well actually do it.
I think two is ambitious enough for this short month.