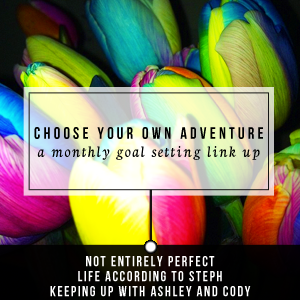 The theme for March was
RELATIONSHIPS
. I'm not romantically involved with anyone, but that doesn't mean I don't have relationships that need attention. With everything I have on my plate these days, some of my friendships have been neglected. This month, I'll work on that.
These were my goals:
- Send two hand-written letters/cards each week. --
FAIL
I did not send a single one. I meant to. I even bought pretty cards to write, but ... it just didn't happen.
- Have face time with two people I haven't seen in a long time. --
SUCCESS
I had dinner with one friend and Skyped with another. In both cases, I think we agreed we might need to schedule these more regularly.
+++++
The theme for April is
FINANCES.
This is probably an important one for me to tackle because I'm not very good with budgets and spending.
So, here are my goals for the month:
- Map out my spending for the month and stick to it. No splurge purchases.
- Go out to eat just once a week.
I think these are doable and a good start to handling my money better.