I'm so sad I missed last week's Sunday Social.
I was too busy stuffing my face with fair food to write a post all about food.
Go figure.
I'm in for this week though, and I admit I cringed a little when I saw the topic.
High school was not a good time for me.
Middle school was worse.
I would prefer not to relive those days, but I will. Just for Ashley and Neely.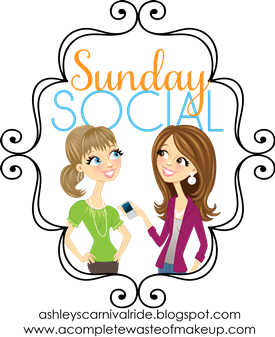 \\\\////
What were you like in middle school/high school?
Middle school
High school
\\\\////
What were your favorite past times?

Middle school
Writing letters to my dozens of pen pals
Talking on the phone for hours
Reading

High school
Writing bad poems about the boys who were breaking my heart (Taylor Swift and I could be BFFs)
Cruising town (illegally, for the most part)
Reading

\\\\////

What songs were you obsessed with?

I'll list artists instead of songs...

Middle school - Amy Grant, Janet Jackson, Tiffany, Boyz II Men

High school - Tim McGraw, Faith Hill, *N SYNC (I knew about them before their debut album hit)

\\\\////

What fashion statement do you look back on and cringe?

Big bangs and all that flannel

\\\\////
Who was your celeb crush?
Middle school
Fred Savage, Thomas Ian Nicholas, Jonathan Taylor Thomas
High school
Tony Lucca, T.J. Fantini, Lance Bass
\\\\////
What were your favorite tv shows/movies?

Middle school - MMC, Kids Incorporated, The Torkelsons, Full House, Boy Meets World, Step By Step, Home Improvement, Saved By the Bell, California Dreams

High school - Beverly Hills 90210, ER, and a few carryovers from middle school

\\\\////

What a fun little trip down memory lane.
It wasn't as bad as I thought it might be.