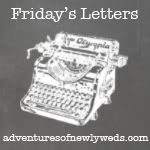 Dear beta readers,
I hope you are enjoying the first chapter of my
NaNoWriMo
project.
It's a first draft, so be gentle.
Dear SK6ERS,
I am so sad I had to make a big girl decision and not come see you this weekend.
I can't believe I'm missing the Hi-Ate-Us Tour.
Please, please don't go away for too long.
P.S. Thank you for the live stream of the Chicago show last night.
It ALMOST made up for not being able to go this weekend.
Dear Bruna,
Thank you so much for calling me yesterday.
I know you have a crazy busy life and I'm glad we can stay in touch online,
but it's so awesome to hear your voice and talk with you in real time.
I love our chats and I love you.
Have a fabulous anniversary weekend with your husband.
Dear Jamie & Courtney,
Our facebook, Twitter and tailgating conversations are some of my favorites.
Thank you for entertaining me during such a strange and confusing period in my life.
I think the universe might explode if we all live in the same area, but I'm willing to chance it.
Dear Jon Daniels,
I hear you may be interested in Nick Swisher.
I am unsure on how to feel about this.
He would definitely be a nice addition to the outfield, but I will feel weird cheering for him.
In my head, I see him in an Oakland uniform or a Yankees uniform.
But I suppose if he helps the Rangers improve, I might learn to love him. (See: Mike Napoli.)
Dear internet,
I have a love-hate relationship with you.
Sometimes the things I find on you make me smile.
Other times, they make me question whether or not I want to live in this world.
Regardless of your content, I don't quite remember what life was like without you.
And I don't think I want to.
Dear not-so-secret Internet crush,
I noticed you about a year ago and was quickly drawn in by your wit and sense of humor.
And then I met you (and finally saw what you looked like), and I am completely sold.
I'm pretty sure I told you I had an Internet crush on you.
But there was beer involved so you may not remember.
Either way, you are distracting me from (almost) all other guys at the moment.
And yet I'm not sure what to do about it.
Please read my mind.
Thanks.
Dear whoever,
Happy Friday, everyone!