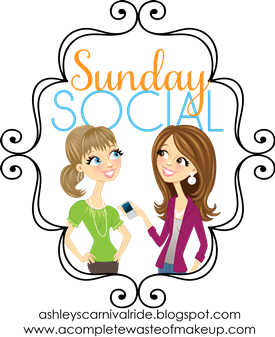 This week's Sunday Social is all about goals for the new year.
\\\\////

Do you plan to change any of your eating habits in the new year?
I am working on giving up soda. So far, I haven't had any since Jan. 1.
I also want to cut back on alcohol and reserve it only for social settings.
\\\\////

Any workout tips to get us back in shape after the holidays?
Set realistic goals. -- Don't try to do a complete 180. Make little changes one or two at a time.
Try something new. -- I tried Zumba, kettlebell and yoga in 2012, and I love them all.
Walk more. -- Walking a few miles is a great way to get some activity in even if it's not a full-on workout.
\\\\////

What is your favorite thing you did over the holidays?
I loved driving through Jolly Holiday Lights with Jaci and Jamie.
Christmas Day = dinner and gifts with family and "Les Miserables"
My NYE two-day football, "Pitch Perfect," and comfy clothes fest with Jamie and Courtney was awesome.

\\\\////

What is something you hope that you accomplish in 2013 that you did not in 2012?
Buy a drink for a cute guy.
Time to get on it.

\\\\////

Name 3 things happening this year you are excited about and why.
- Starting a new job. I don't have a solid lead yet. But I know it's coming.
- Doing more 5Ks. The Color Run was a blast! I need to do more races.
- Seeing a new ballpark. I haven't narrowed down my plans yet, but it'll happen.

\\\\////