I have been a reading machine lately. It's really not that surprising. I've always been a reader. And right now, I'm unemployed, and I only get three TV stations on a regular basis, so I have a lot of free time. What better way to use that time than to get lost in a book ... or several?
Here are the books I finished during the month of May:
"No Tan Lines" by Kate Angell
"The Diary of Darcy J. Rhone" by Emily Giffin (this was so short, I'm not sure I should count it)
"Emancipating Andie" by Priscilla Glenn
"The Kiss Off" by Sarah Billington
"The Coffin Quilt" by Ann Rinaldi
"Flat-Out Matt" by Jessica Park
"Playing Along" by Rory Samantha Green
"Reached" by Ally Condie (I started it in April.)
I'm sure my readers wish I'd use some of my free time for writing. I probably should have. I guess I'm hoping that my voracious appetite for books lately will translate into some inspiration for writing. Stay tuned to see if that works out.
\\\\////
Last Saturday, I advertised a
Summer Reading Swap
. Response has been a little light, but I'm still hopeful it'll pan out. I'm extending the sign-up for another week. I'll assign partners on June 9, so if you're a reader, please
go sign up
!
\\\\////
On running ...
In May,
Wine and Summer challenged herself to run 30 miles in 30 days
. I've decided to take on that challenge for the month of June. If I stay on track with my current training schedule, I should be able to achieve that with no trouble. I'll keep you posted with my progress!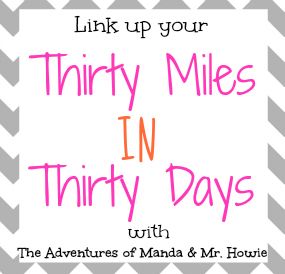 \\\\////
I still need to find a 5K for July and one for August to complete my goal of running six 5Ks in 2013. I also had a friend tell me to find one for us to do in October. So either I'll take one of those summer months off or I'll just do seven. Which do you vote for?
\\\\////
I also need new running shoes. I've had my current pair for about a year, and they've logged a lot of miles. Unfortunately, that will have to wait until I am gainfully employed. But trust me, I've started checking out my options. I've been wearing Nikes because they work with the Nike+ on my iPod (which is how I track my runs), but if everything works out, I have my sights set on a Garmin in the near future as well. Once I have that, brand won't matter, so I may branch out. Do you have a favorite running shoe?
\\\\////
And now I'm off to enjoy the rest of this glorious Saturday!