It's official: #NSYNC is definitely performing together at the #VMAs! http://t.co/iI0HPfdiOP
— E! Online (@eonline) August 23, 2013
This was the highlight of my week.
For real.
Even though I don't have cable and thus won't get to see the reunion performance until sometime Monday (unless someone wants to Skype me into their living room), I am still beyond excited.
*NSYNC was my second and biggest musical obsession. NKOTB was first, but I was too young during their prime to go completely crazy. I became a fan of *NSYNC in August of 1995. That's the first I heard of their existence, thanks to a flyer that arrived in the mail for me from Maryland (probably because I had sent fan mail to JC when he was on "MMC) announcing their showcase performance at Pleasure Island in Orlando. I had it signed years later when I met the boys, and the boys said it was the first time they'd seen one of those since that show. They were very impressed I still had it.
Not the greatest quality, but here are a few of the photos from my *NSYNC adventures I could scrounge up for this post.
I attended my first *NSYNC concert in August of 1998 -- three years after I had become a fan. My dad and I drove to Janesville, Wisconsin, for the show, which was at a county fair. We were both sleep-deprived, having spent the entire previous night delivering newspapers before hitting the road. But the trip was so worth it. I met up with one of my MMC penpals, and we took in the show together.
My college roommates can attest to my love for *NSYNC. I had posters in my dorm room. I played the music constantly. I persuaded my roommates (and other friends) to roadtrip to see *NSYNC. We camped outside and fought angry mobs at SweetStock In Omaha. We waited in line at the Mall of America for more than five hours for autographs and were probably about an hour away from getting to the front when the event ended.
Here are a few more quick facts:
-- I'm pretty sure I bought every album on its release date. And this was before iTunes, so that took effort.
-- I saw them live eight times in as many states.
-- I met them once through a meet and greet. I was so nervous that I didn't eat all day.
-- Lance was my favorite, and I would still probably have his babies if given the chance.
-- I have a huge collection of memorabilia, and it's still at my parents' house. (That's why I don't have much photo proof for this post.)
-- I wrote a major college paper about fan behavior, using mostly *NSYNC examples. And I was selected to present it at a state communications conference.
-- Oh, and I have this tattoo on my back: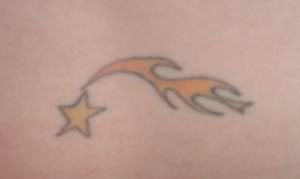 This can probably be added to the "Why I'm still single" file.
But *NSYNC is more than just a boyband to me. They were and always will be such a huge part of my life.
I met two of my best friends because of *NSYNC. Bruna and I began conversing in a chat room one night. She tells me to this day that the main reason she talked to me is because I was a Lance girl. She was a Justin girl, so she didn't want to talk to anyone she would have to share him with. Ha ha. Her next door neighbor at the time was Nikki and Bruna introduced us. All three of us are still friends 15 years later, and I was in Bruna's wedding two years ago.
In recent years, I've watched with envy as all the other boybands -- NKOTB, BSB, 98 Degrees, etc. -- reunited. I knew *NSYNC would not join that trend. They had all gone in different directions and seemed to be living very separate lives. And that was probably best for my bank account.
When rumors started flying earlier this week about a reunion, I got excited but was really afraid to get my hopes too high. Especially after Lance and Joey each denied the rumors. But E! Online seems to have some legit sources. I sure hope they're right. It's long overdue.
Also, it'll be nice to slip back in time for a little while and remember the days when life was so much easier.