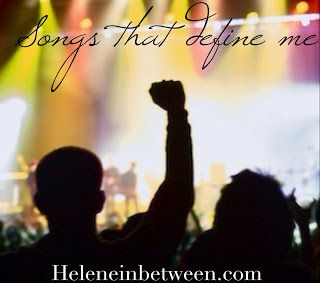 When I saw
Helene
advertise this link-up, I could not have been more excited.
If you've been around here lately -- or ever -- you know that music plays a huge role in my life.
TRUTH.
I think you might learn a little something about me from this post.
I'll share five songs that really mean something to me.
(P.S. It was a really challenge to choose just five.)

+++++
This one really speaks to my hopeless romantic nature.
Sadly, I'm a lot more jaded than I used to be.
I think it's also a testament to anyone who misses youthful dreaming and imagination.
Don't we all want to go back to those days? Just me?
+++++
This is one of the first John Mayer songs I remember hearing, so it's iconic in that sense.
But then there are the song lyrics. They are just perfect.
Sometimes I can be my own worst enemy.
My brain just goes in circles and sometimes goes to some horrible conclusions.
It's hard to find "the quiet inside my mind."
+++++
My choices in the relationships realm have been mocked by friends and acquaintances.
I'm just not a girl who can have fun and then let it go.
I want something real. Something with feelings and emotions.
And I think I'm worth the wait.
P.S. This list could have had several Kelly Clarkson songs. Love her.
+++++

Speaking of decisions being mocked, here's my latest anthem.
It's from my boy, Tim Stop.
The second verse just really hits the mark.
I really need to adopt that way of thinking ...
"The people who like me like me anyway,
And everybody else, they can go to hell."
+++++
Finally, a Sara Bareilles song that amuses me to no end.
The language is not suitable for work or little ears.
This is one I blast and sing when someone takes an undeserved dig at me.
+++++
Do you have songs that define you?